Microsoft Office 2010 (Word; Excel; PowerPoint; OneNote...) has introduced a new look with additional features, however if you already have a previous version of the suite the real question becomes, "do I upgrade or not?" Let's start with a quick look at Office 2010:
If you are using Office 2007, you have already experienced the shift over to the more visual "ribbon" interface style, (departing from the traditional toolbar icon and expandable text menu found earlier Microsoft Office versions or Open Office).
Office 2010 brings a further shift towards visually driven menus (and Outlook is included in this menu style conversion, strangely it was skipped over in Office 2007's facelift - however Outlook is now sold separately from Office - figure that one out). Some of the new ribbon features include a standard "File" menu that replaces the "Office Button" (good decision) as well as the ability to minimize the ribbon (this is a nice space saver however, it can cause some confusion if you minimize the menu and don't know how you got where you are or worse yet how to get the menu back to the way it was) .

Also in the 2010 suite are some newly designed image editing, search and web features... (Read more on Office 2010 features)
The cost of MS Office 2010 ranges between $150 - 500 (depending on the version) which may be a major factor in making this decision. Overall I am pleased with the changes to Office 2010 and would say that if you tend to use Office beyond the basics of creating straight-forward documents or spreadsheets you'll find 2010's enhancements quite useful - Let me know if you want to give it a try.
Feel free to contact me if you have any comments or questions at DMielke@FileBankIT.com (416) 640-2874.
February 11 is Tokens4Change& in Support of Youth Without Shelter
Friday February 11, Tokens4Change and schools across the city kick off a one day event, raising TTC tokens for Youth Without Shelter (YWS). Find out how you can help at www.tokens4change.com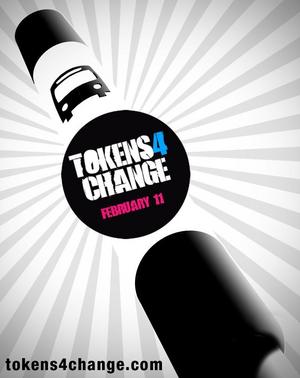 Tokens are essential so that homeless youth can use public transit to visit the doctor, get to school and travel to job interviews. Transit allows them to get their lives back. YWS serves over 1,000 homeless youth every year.

Hundreds of students have volunteered for the event. Students will be performing to catch commuter attention and to raise donations. Commuters can expect to see choirs, drum bands, dance mobs, poets and other acts in stations across the TTC. For those who travel light, they can text tokens to 45678 to donate $5 via their phone bill.

For more information check out www.tokens4change.com or Youth Without Shelter's home page.
Google Warns of Possible Web Page Problems
Google, currently the most widely used search engine, has recently added some security enhancement that you may want to know more about. Google's goal is to give you greater information regarding websites that may be compromised by hackers, allowing you to avoid these sites. While Google's application is not perfect, look for these warnings and conduct yourself accordingly. Keep in mind Google does not have the capability to warn you about all potentially hazardous websites, so you still have to use some common sense.
Depending on how much you use Google search and what topics you search for, you may or may not have come across these warnings in the past. Google introduced "This site may harm your computer" a few years ago. This warning was designed to indicate that the website is potentially hosting malicious software and should be treated with caution or avoided all together.
Google recently introduced another warning that states, "This site may be compromised". This warning is an indication that the site may no longer be under the control of the legitimate website owner. (E.g., the website has been taken over by spammers or may redirect you to adware sites.) Potentially not as harmful, but annoying and probably a website you will want to avoid. (See example on Matt Cutts search)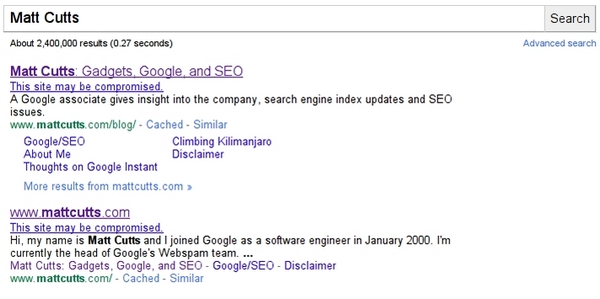 Read more about Google's warning system here.
Optionally there are many other freely available programs to assist you in identifying potentially harmful websites (E.g., AVG's link scanner, or features/plug-ins available for most browsers including Internet Explorer, Firefox, Chrome and Opera). - Surf the Net Safely -
Feel free to contact me with your questions (DMielke@FileBankIT.com or 416 640-2874)
As we start another year, I'd like to thank everyone for reading our articles, sending in your questions and entering FITS & Starts contests. Hopefully we can continue to keep you informed with our subject matter in 2011 and keep your computers running trouble free. - We hope you have a happy and prosperous New Year.

As always, contact me for all your computer related questions. (DMielke@FileBankIT.com or 416 640-2874)